PTMC team
18.05 2016
PTMC trading platform now available via OANDA
Poland, May 18, 2016. PFSOFT, a developer of professional trading software for banks, prime brokers, retail brokers and individual traders, today announced its partnership with OANDA, one of the leading global providers of online CFD, foreign exchange ("Forex", "FX"), and precious metals trading services.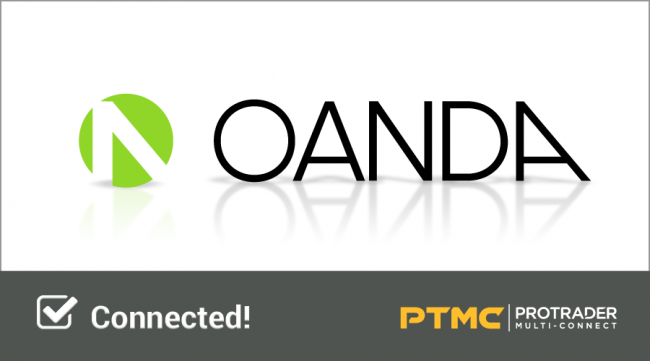 OANDA will provide trade execution and market data to the PFSOFT PTMC trading platform solution through OANDA's REST API. OANDA's technology allowed for a rapid integration and immediate connection to high quality services for PFSOFT clients. OANDA's retail traders are able to use the PTMC platform with a wide range of functionalities, including advanced charts, powerful drawings and studies, as well as a tool for algorithmic traders - AlgoStudio.
"We are excited that OANDA's highly sought after data feed is now available for PFSOFT clients" - said Alexey Bogdan, Head of front-end development at PFSOFT. "Connection to OANDA was in strong demand amongst current and prospective PTMC users – by developing this link they will now have access to OANDA's fast and convenient REST API technology."
"PTMC trading terminal contains a wide range of tools suitable for our more advanced technical traders. The new partnership with PFSOFT enhances our overall partner program by offering a unique application called AlgoStudio which features multithreading, backtesting, advanced optimization, and also supports C# code", said Trevor Young, Vice President of Product Management, OANDA Corporation.
The partnership combines the strengths and extensive experience of both companies to deliver an outstanding FX and CFD solution to traders worldwide.
---
About PFSOFT LLC
PFSOFT is a leading global provider of technology solutions for the financial services industry. The company offers Protrader - a comprehensive multi-asset trading solution for all major markets including: equities, futures, options, foreign exchange, CFDs and Spread Betting. Protrader can be integrated with various functional APIs, with an unlimited number of liquidity providers and data feeds. Protrader trading environment contains a wide range of tools suitable for asset managers, day traders, scalpers and algorithmic traders. www.protrader.com
Contact:
PFSOFT LLC
Roman Nalivayko
Head of Business Development Department
r.nalivayko@protrader.com
M: +48 532 909 003
---
About OANDA
OANDA transformed the business of foreign exchange through an innovative approach to online trading. The company's industry-leading online trading platform introduced a number of firsts to the marketplace, including automated execution; instant settlement on trades; trades of any size between one unit and 10 million units; and interest calculated by the second. In 2015, OANDA was honoured to receive the "Best Customer Service" and "Best Mobile Platform" awards in Investment Trends' 2015, USA Leveraged FX Reports; "Overall Client Satisfaction", "Customer Service" and "Value for Money" in Investment Trends 2015 UK Financial Spread Betting, CFD & FX Report; "No. 1 FX Broker for High-Value Clients" and "Largest FX Broker by primary market share" in Investment Trends 2015 Singapore CFD & FX Report; and "Value for Money" and "Educational Materials" in Investment Trends, 2015 Australia FX Report.
OANDA was the one of the first online provider of comprehensive currency exchange information, and today the company's OANDA Exchange Rates® data provides benchmark rates for corporations, auditing firms, and global banks.
OANDA has seven offices worldwide, Toronto, San Francisco, New York, London, Singapore, Tokyo, and Sydney. OANDA is fully regulated by the U.S. Commodity Futures Trading Commission (CFTC), the U.S. National Futures Association (NFA), the Monetary Authority of Singapore (MAS), the Investment Industry Regulatory Organization of Canada (IIROC), the UK Financial Conduct Authority (FCA), the Japanese Financial Services Agency (FSA), and the Australian Securities and Investments Commission (ASIC). Leveraged trading is high risk and may not be suitable for everyone as your losses may exceed your investment. We advise you to consider whether trading is appropriate for you in light of your experience, objectives, financial resources, risk tolerance and other relevant circumstances. Ensure you fully understand all of the risks involved and seek independent advice if necessary. Please refer to our more detailed risk warning:https://www.oanda.com/resources/legal.
---
Have not tried PTMC yet? There is no better way to boost knowledge than to use it! Start trading with PTMC now!
No comments yet. Be the first.