PTMC team
18.07 2017
What is an ETF and how does it work?
ETF or Exchange Traded Fund is an open investment fund, which shares are trading on the exchange. Such funds are in a way similar to Mutual funds, but the difference is that ETF's can be traded on an exchange, like an ordinary stocks or futures! Also, ETF price changes during the day of a stock trading, different from the price of a mutual fund, which price is evaluated once a day.
ETF represents the portfolio of stocks or assets portfolio (commodities, bonds, interest rates, currencies), that usually repeats some exchange index, for example, S&P 500. In accordance, while buying or selling ETF, you trade the stock basket. Exchange traded funds have a number of advantages before other instruments, which has probably made it the most popular trading instruments on the American stocks.
The first exchange funds were founded in 1989 as an index participation shares, that were traded on Philadelphian and American exchanges. Nevertheless, Chicago Mercantile Exchange (CME) has lodged a lawsuit, and index participation shares were forced to cancel.
After that, the similar product was founded on Toronto stock exchange, and it's success has made American stock exchange to develop the same instrument, that was suitable for SEC — the USA financial regulator. The most popular ETF in the world — SPY — was founded in 1993. It represented the depositary receipts for the S&P index. This fund has grown to the world's bigger fast. Later this year, another "Spyder" appeared — MDY, that represented the stocks with an average capitalization.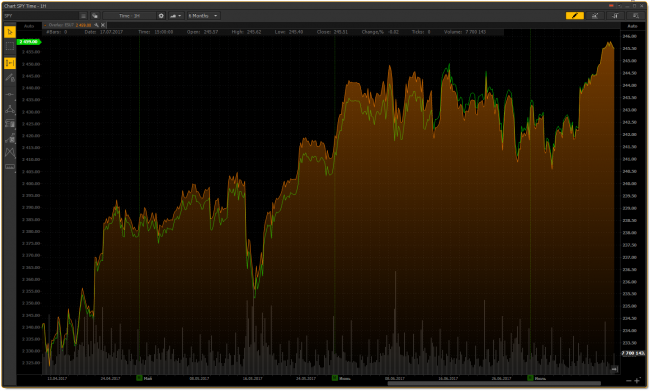 Comparison between SPY ETF with E-mini S&P 500

In 1998 State Street Global Advisors company presented sector exchange funds, that followed nine sectors of S&P 500 index. The same year brought DIA — a fund for Dow Jones Industrial Average index. 1999 brought QQQ — the NASDAQ 100 index fund. These popular funds have headed the whole exchange markets.
What is the difference between ETFs and Futures?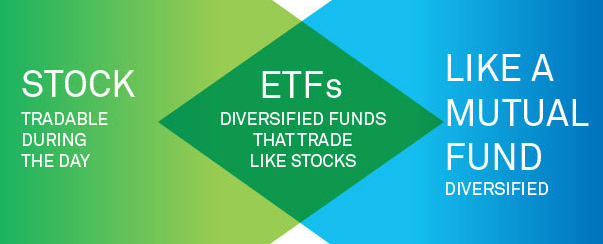 What is etf and what advantages does it have before mutual funds and stocks

So, what differs exchange fund from shares? At first, it's composite nature. Buying ETF, you don't just buy a share, but purchase the whole diversified share portfolio. In the case of ETF for economics sectors, its not just a number of shares, but a pack of security papers, selected by a professional, which brings good income with high probability. It will be especially good for long term investors. Instead of a complicated analysis and taking funds to the portfolio, it will be able to select exchange fund, basing on the preference. Customize buy it's shares, relax and get income! One more feature of ETF, compared to the ordinary investment funds, is the absence of the management fee.
One more extremely important difference is ETF's market structure, that consists of two layers:
- primary ETF market (this is ETF Creation and Redemption stage) — only authorized participants are allowed. Mostly, it is major hedge funds or investment companies, which can commit two operations: the initial issue of ETF shares — buy or go long — changing according to papers or finances on the shares itself. It is done with a big stock of shares (50 000+) or cancels ETF shares, which is the recessive operation, that suppose exchange of shares, for, accordingly, cash or it's stocks.
- secondary market — it is allowed for both the private investors and companies— prop trading companies, brokers, traders etc. This market does not perform release or cancel of shares: only buy or sell, similar to other instruments.
Why so complicated? While changing a part of your portfolio, the primary market participants get ETF with a discount, later using these stocks for proving liquidity in ETF for the secondary market with a market-making. Buy cheap and sell expensive — the primary market law in action!
What is the profit for the companies? Such funds are made for investors comfort, and what can be more comfortable than the arbitrage between the market price and included share portfolio price? The majority of existing ETFs has the transparent portfolios, so, primary market traders know what they need to pick for purchasing the module.
The majority of ETFs in the USA has the structure, similar to the mutual funds and money market funds — in the form of an open regulatory investment company, while some ETF, including the biggest, has a structure of open-end funds. ETF Funds, with the structure of an opened regulatory investment company, has a high flexibility in portfolio forming. Also, they can afford margin crediting, futures and options for investors.
Pros and cons of exchange funds



Pros before stocks:
- Commission — while trading a portfolio, you pay commission per deal for each ticker, what destroys all the strategies, except long term ones;
- Diversification — "today I've bought oil-mining sector, tomorrow I am going to sell the developing markets" - you only can hear it from the ETF trader. ETF funds even allows participating in renting a real estate with special funds for that;
- Liquidity - company, that creates ETFs and serves it (issuer or provider) generally is a market-maker for this exchange fund. Huge spreads in ETFs are rare.
Pros before futures:
- Diversity — the exchange has the ETF analogs of all the traded futures and a lot more, like ETF not only for the whole index but also for some economic sectors and Beta-neutral ETFs!
- Budget oriented — you are free to buy even one share of the fund, while in futures the margin size per contract can reach 2-5 thousands dollars, and a tick cost sometimes is higher than ETF's by decades. So, ETFs allows trading futures with a small capital.
The biggest ETF creation companies
Blackrock (iShares)

Blackrock is the world's bigger investment company, its AuM size is more than 5,4 trillion dollars. Is a creator of a line of
iShares
exchange funds. Was founded in 1988 by eight traders, specializing in a risk management and fixed-income instruments.
ETFs from Blackrock - iShares - includes all types of instruments, like:

US treasuries for different time periods;
different country's indexes (Japan, Germany, Singapore, Span etc);

different stock market sectors, commodities and a lot more.

The company is a provider of a 342 exchange funds. Full list of their ETFs is here
Vanguard

One more giant of an American financial sphere with assets in regulations of more than 4 trillion dollars. Founded in 1974 by John Bogle. Named in honor of a flagman sheep of admiral Nelson. Vanguard could be a flagman of a financial world if there were no Blackrock and the next company in our list.
The company represents 86 ETFs, which covers all the USA's fund market: there are different indexes and funds for every economics section, which is a paradise for an investor.
State Street Global Advisor (SPDR)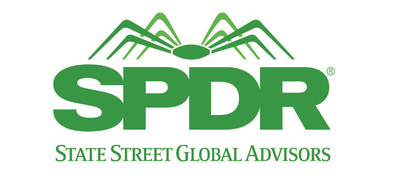 One of the biggest USA's financial institutes, like two more from our review. The regulatory fund is 2,5 trillion dollars. At first, the company, founded in 1978, appeared to be filial for State Street Corporation, founded in 1792.
SPDR is a provider of the 177 funds, including SPY, GLD and a lot more. SPDR really gives an investor what is called worldwide diversification — world indexes, world financial centers shares, obligations, capital market funds and developing markets indexes in one list.

---
Here's a picture that will help you navigate and find the right ETF (click to enlarge):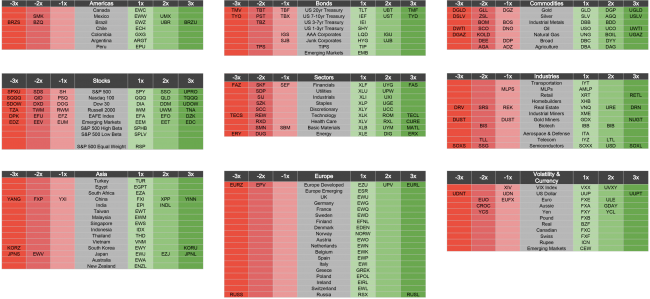 ---
Have not tried PTMC yet? There is no better way to boost knowledge than to use it! Start trading with PTMC now!
No comments yet. Be the first.