Sokolov Sergey
31.07 2017
How to trade Exchange Traded Notes (ETNs)?
Exchange Traded Fund is understandable and accessible investing product, that takes a very high position among others. But also, there is a thing, named Exchange Traded Note or ETN. What is better to choose for investing? Should you invest in both? Let's try to figure it out.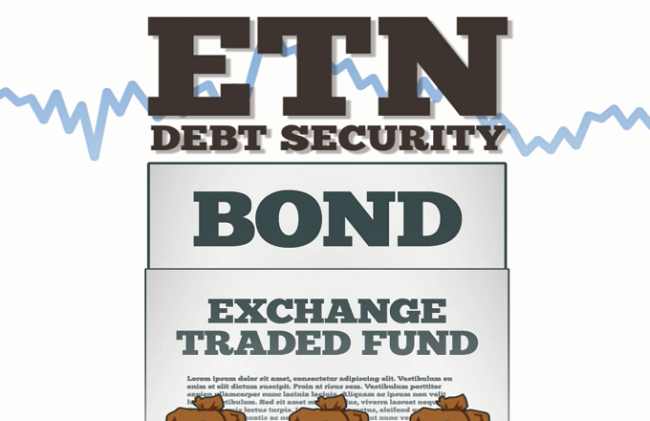 What are ETNs or Exchange Traded Notes?
Recently, we have discussed a bit about ETF. Now, let's drop a couple of words about ETN. According to Investopedia, Exchange-traded notes (ETNs) are a type of unsecured, unsubordinated debt security first issued by Barclays Bank PLC based on the performance of a market index minus applicable fees, with no period coupon payments distributed and no principal protections.
Today we consider four major types of ETN: commodity, currency, emerging market, and strategy ETNs. All these ETNs you can trade via multi-connection PTMC + Interactive Brokers, multi-connection Interactive Brokers + Metastock as well as PTMC + Metastock.
Commodity ETNs itself can be divided into such categories as energy, metals and oil. Such ETNs are emulating the price performance of some commodity or commodity index, metals and oil.
Currency ETF also has categories like the euro, the British pound, and the Japanese yen. Similar to currency ETFs, such ETNs look to track the price of a particular currency, both single currencies or the basket of currencies. Currency ETNs are good for hedging infiltration risk and gaining exposure to foreign markets.
There are also Emerging market ETNs, that are gaining foreign exposure. Such ETNs can help to gain exposure to the market of a particular country or region, that is up-and-coming.
The last type is the Strategy ETN, but this types can be divided into a lot of parts itself. For example, there are ETNs linked to the performance of the S&P BuyWrite Index.
Main characteristics of ETNs
ETN can be described by following characteristics:

Liquidity

—

ETNs are not limited to on-exchange volumes and appear as an open-ended security;
Benchmarking

—

ETNs track the performance of their underlying benchmark;
Accessibility

—

ETN can be bought and held in ordinary brokerage or custodial accounts and can be traded and settled on a stock exchange;
Flexibility

—

both long and short ETNs are available;
Transparency

—

the price is based on a formula and can be updated daily by the issuer, also they are priced with the use of published settlements prices;
Ease of ownership

—

ETNs do not have any of difficulties of buying and managing futures position or strong physical assets
ETN is special because it can be held until the expiration date or can be realized on the market. The danger here is that in the case of bank bankruptcy, the investor is faced to suffer hard times. That's why the ETN commitment's credit rate should be considered. If commitment rate decreases, the asset's price gets low.
Also, there is a risk regarding the liquidity. Today investing sphere has a lot more ETFs than ETNs. That means that if you need to close or open an ETN, the lack of trading volume could circumstance your actions.
What risks can be while trading ETNs?
To sum up the risks, we can divide them into the following groups:
Complexity

—

understanding the manner of calculation of the reference index or the benchmark takes some time, including the fees that are included in either the reference index or the calculation of the value of the ETN. Some other investment products can offer more simple trading;
Credit Risk

—

the creditworthiness of the issuing financial company should be proven before buying an ETN;
Market Risk

—

ETNs expose investors to the performance risk of the reference index or benchmark. And don't give up keeping in mind the credit risk of the issuer.
Leverage — ETNs reset on a daily basis their exposure to the leveraged, inverse or inverse-leveraged exposure stated in the prospectus. That says that all investors receive an equal amount of leveraged, inverse or inverse-leveraged exposure. Investors should not expect to receive returns proportional to the exposure stated in the prospectus if the hold such ETN for more than 1 day. The difference can appear to be compelling. Leveraged, inverse or inverse-leveraged ETNs are not typical in the role of buy-and-hold instruments;
Liquidity Risk

—

you may have no ability to sell an ETN immediately for the price you prefer if you want to cash out the investment. The liquidity of ETNs varies significantly.
Volatility

—

before purchasing an ETN you should consider comparing market prices against indicative values. If we talk about the instances in which the issuer has suspended further note issuances, ETNs can trade at premiums or discounts to their indicative value. That also works for some other kinds of instances.
What are the advantages of ETN?

So, considering such risks, what are the advantages of ETN? The primal advantage is a minimal amount of tracking mistakes. You always have such mistakes in index funds because it requires finances for its support, which is not obligatory for ETN.
When the notes expiration date is coming, the owner gets its price, considering the meaning of an instrument or stock index. ETN doesn't provide active hedging, so there are no additional losses, while the ETN price is close to the current basic asset price.
What are the differences between ETN and ETF?
So, is there anything common between those products? The task of ETF and ETN is the same — to repeat the basic asset's dynamics. Both ETF and ETN are widely traded on the most popular stocks and has low expenditures. As for the differences, mostly it is about technical details. Buying ETF literally means investing in the fund, that owns and regulates the shares. It can be shares, obligations, commodities or futures.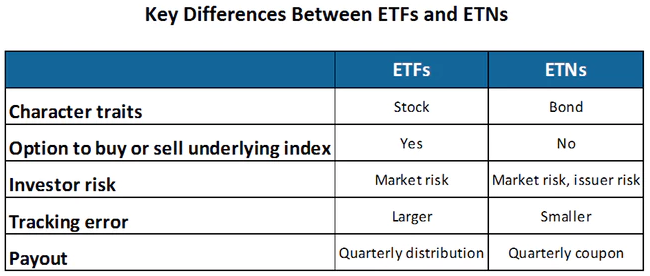 ETN has more common with obligations because it is an unsecured debt commitment, made by some organization. It can be held, bought or sold, and in case it's underwriter gets busted, then ETN depreciates. That's why we remind you to pay attention to the bank's credit rate.

So, here is what we got if to sum up the if to sum up the differences:

ETFs liquidity that with a single stock, while ETNs are a debt obligation, so credit risk should be minded;
purchasing an ETF means investing in a fund that buys and holds multiple assets. purchasing ETN means buying debt from the issuer that is backed by the full faith and credit;
ETNs have maturity dates. Holding an ETN until the maturity date means receiving a one-time payment based on the performance of the underlying asset, index or strategy, which you can sell on the open market;
While buying an ETF, you own of a basket and its contents, but not the piecemeal ownership of the individual contents;
The taxes are pretty different between ETF and ETN. ETN gets you taxed upon sale, not more, but it is far not that simple with ETF;
ETNs have no tracking error, but such errors are not widely happened even with ETFs
What is better: ETF or ETN?

It's better to invest in what you understand, so ETF, in fact, is the best choice. They are understandable to the public, they have good liquidity. Not all ETNs can be sold when you want, sometimes you have to wait a few days. ETFs behave exactly like stocks, and ETN, being a bond, is somewhat more complicated in its mechanics.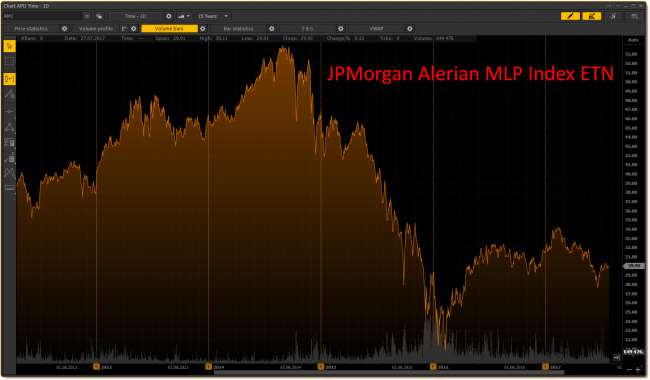 Of the popular ETNs, we can note, for example:
JP Morgan Alerian MLP Index Exchange Traded Notes (AMJ)

iPath S&P 500 VIX Short-Term Futures ETN (VXX)

iPath MSCI India ETN (INP)

iPath Dow Jones-UBS Commodity Index Total Return ETN (DJP)
One of the leaders - JPMorgan Alerian MLP Index ETN - the daily trading volume is 1.8 million notes. For comparison, SPDR S & P 500 ETF (SPY) - the average volume exceeds 85 million shares. So investors like ETF more.

However, ETN also has a niche. These bonds are usually slightly more efficient than many ETFs and have a more sparing tax structure.

The full list of ETNs you can see on the iPath official website.


So, here it is. Choose carefully, basing on your preferences and abilities.
---
Have not tried PTMC yet? There is no better way to boost knowledge than to use it! Start trading with PTMC now!