PTMC team
15.03 2014
Simple Manual Trading System Part 4 - Trading trends with Heiken Ashi
Trading trends with Heiken Ashi indicator
Exotic tool or useful gadget? Many people consider Heiken Ashi to be fancy and exotic but in the end just another useless indicator. These people could not be more wrong! In this part of our series I'd like to show you how useful this custom indicator can be for your trend systems.
Heiken Ashi is a custom indicator that draws candles in a different manner than traditional Price Action taught us to. Here is how HA candles are being formed:
1. Open price: the open price in a Heikin-Ashi candle is the average of the open and close of the previous candle.
2. Close price: the close price in a Heikin-Ashi candle is the average of open, close, high and low prices.
3. High price: the high price in a Heikin-Ashi candle is chosen from one of the high, open and close price of which has the highest value.
4. Low price: the low price in a Heikin-Ashi candle is chosen from one of the high, open and close price of which has the lowest value.
Thanks to: http://www.fxkeys.com/what-is-heikin-ashi-and-how-...
Therefore typical candle formations and PA reading is not valid here. On the other hand there is another method of interpreting the price visualized with Heiken Ashi. The first thing is that the color of HA candle isn't necessarily the same as would open/close relation indicate. Therefore traditionally downward candle can be upside in HA style. This happens, because HA candle is determined not only by price movement within its own time period but it's also determined by previous candle. That's why long streaks of single HA candles occur, especially within trending environment. This method filters noise being made by small downward candles in an uptrend. You just don't need to bother with them and you can assume, that if any candle changed its color, then it's probably significant change.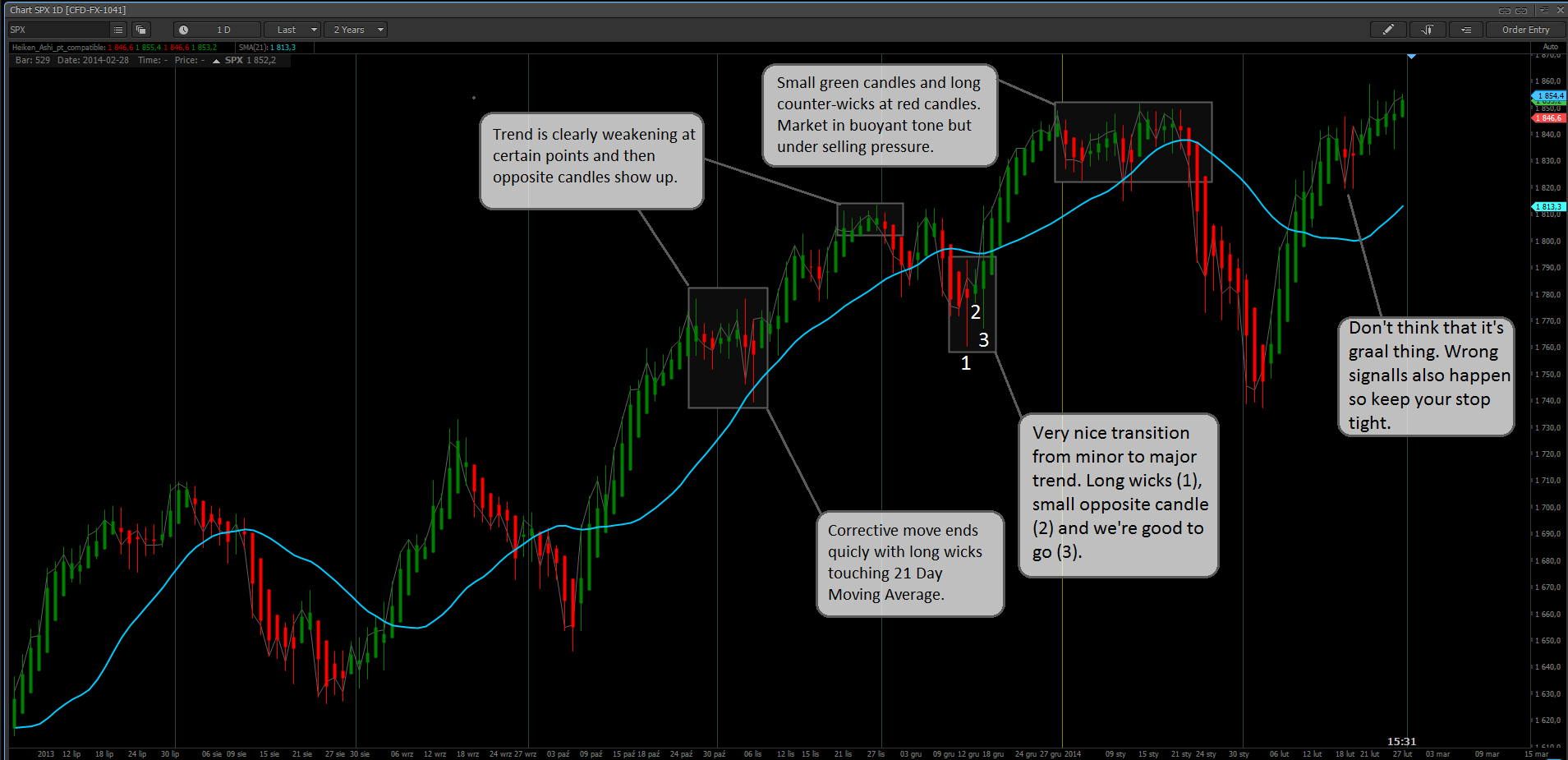 Other important information coming from HA candles are wicks and sizes. If candle got long counter-wick, it means that some decent move against trend was in its way. Small candles with wicks on both sides suggest doubtful and undecided market meaning that reversal might be right behind the corner.
Heiken Ashi looks particularly interesting when combined with some trend indicators, i.e. simple moving average which could be good trend indicator and dynamic support/resistance in the same time.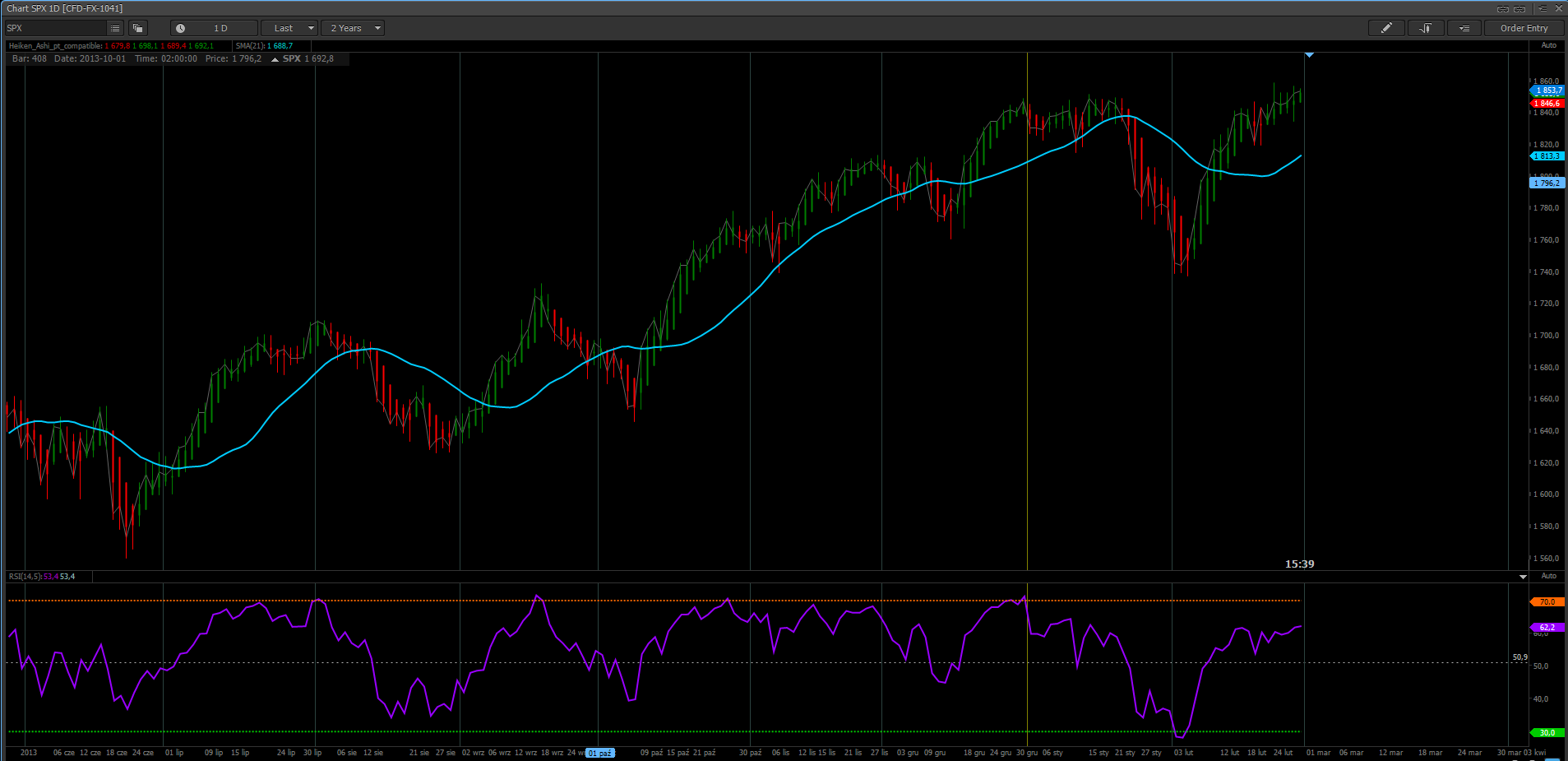 It looks like MA shouldn't have too high period set, because it would become insensitive for cyclical swings. On the other hand, to low period could result with many fake break signals. Probably 14-22 DMA would provide some good signals for buy above and sell below. Especially if there can be a dominating (major) trend identified.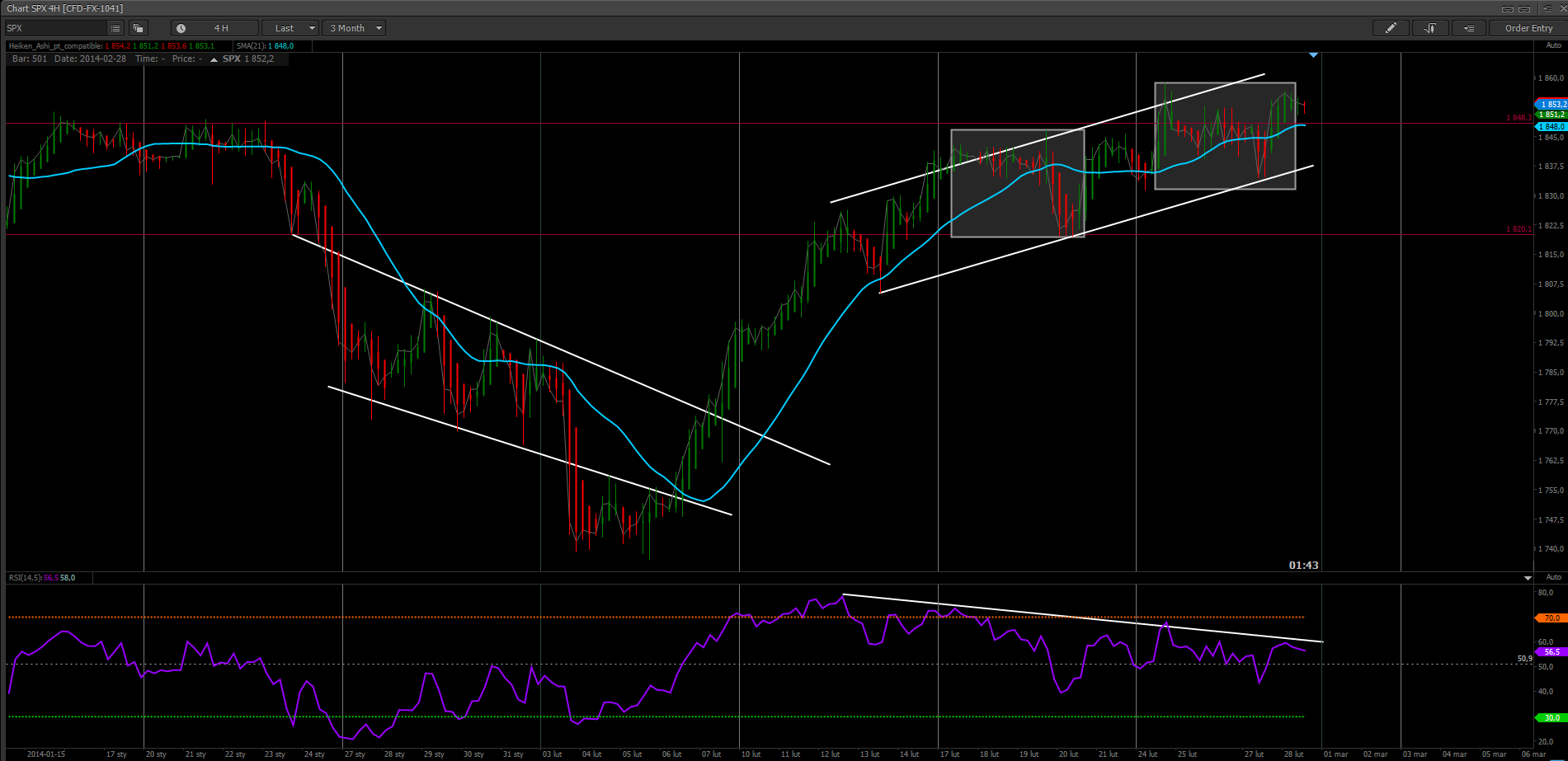 It's also very meaningful that swing formations and technical analysis apply here very well. Actually swings are far better visible because of clear contrast between downward and upward waves.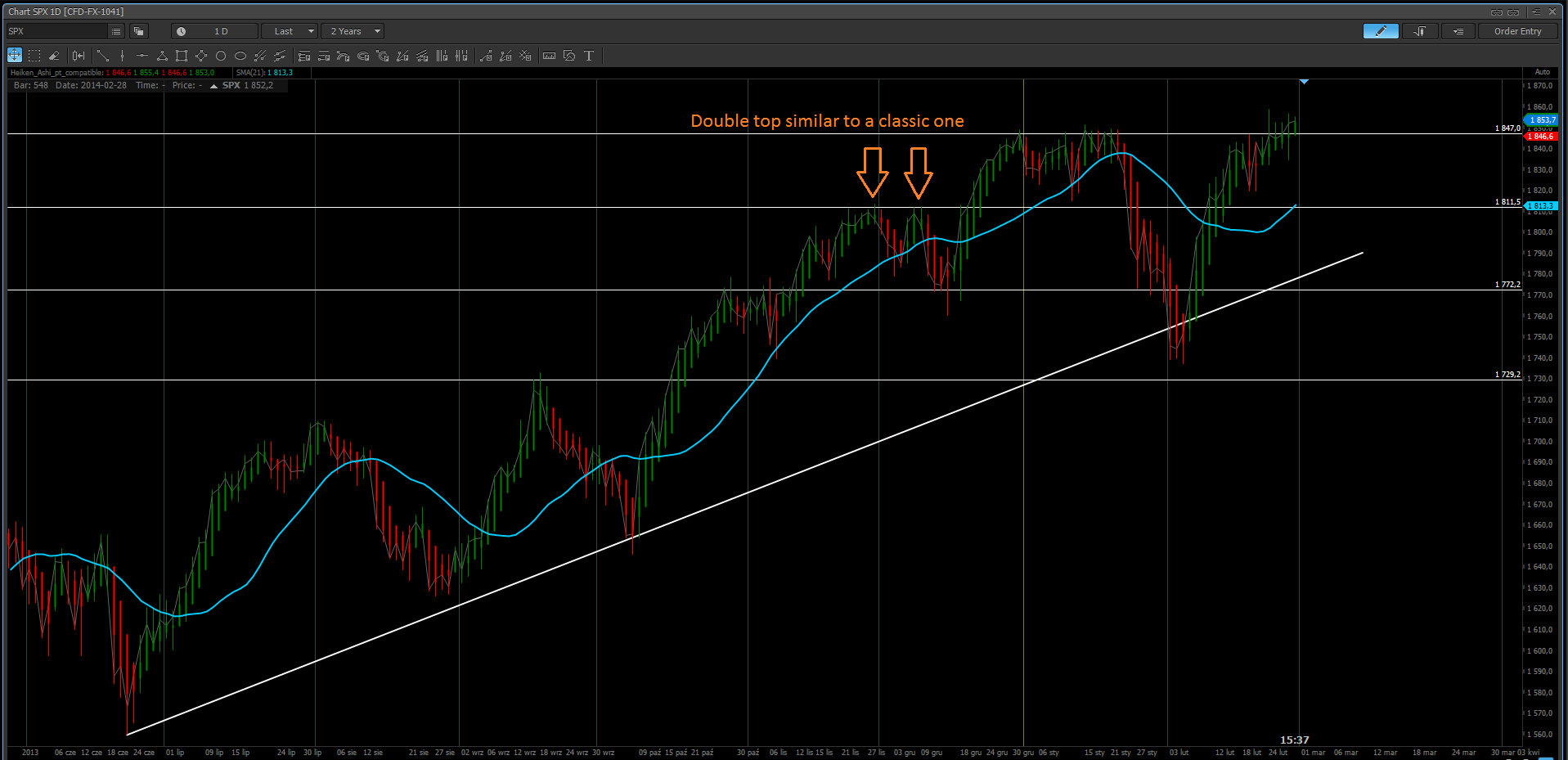 To sum up: common truth is that the best tools are these working well for you. So if you like to trade with trend, Heiken Ashi is very promising idea for you to try.
We can also think of attaching HA indicator to our simple manual trading system which we've developed in previous part of this series. As you probably remember it was a system that follows prevailing sentiment. We were using Pivot Points and Moving Average indicator to determine direction and level for entry. I wrote then that you probably could increase effectiveness of your trades adding the Price Action to your strategy but Heiken Ashi seems also legit here. Let's take a look.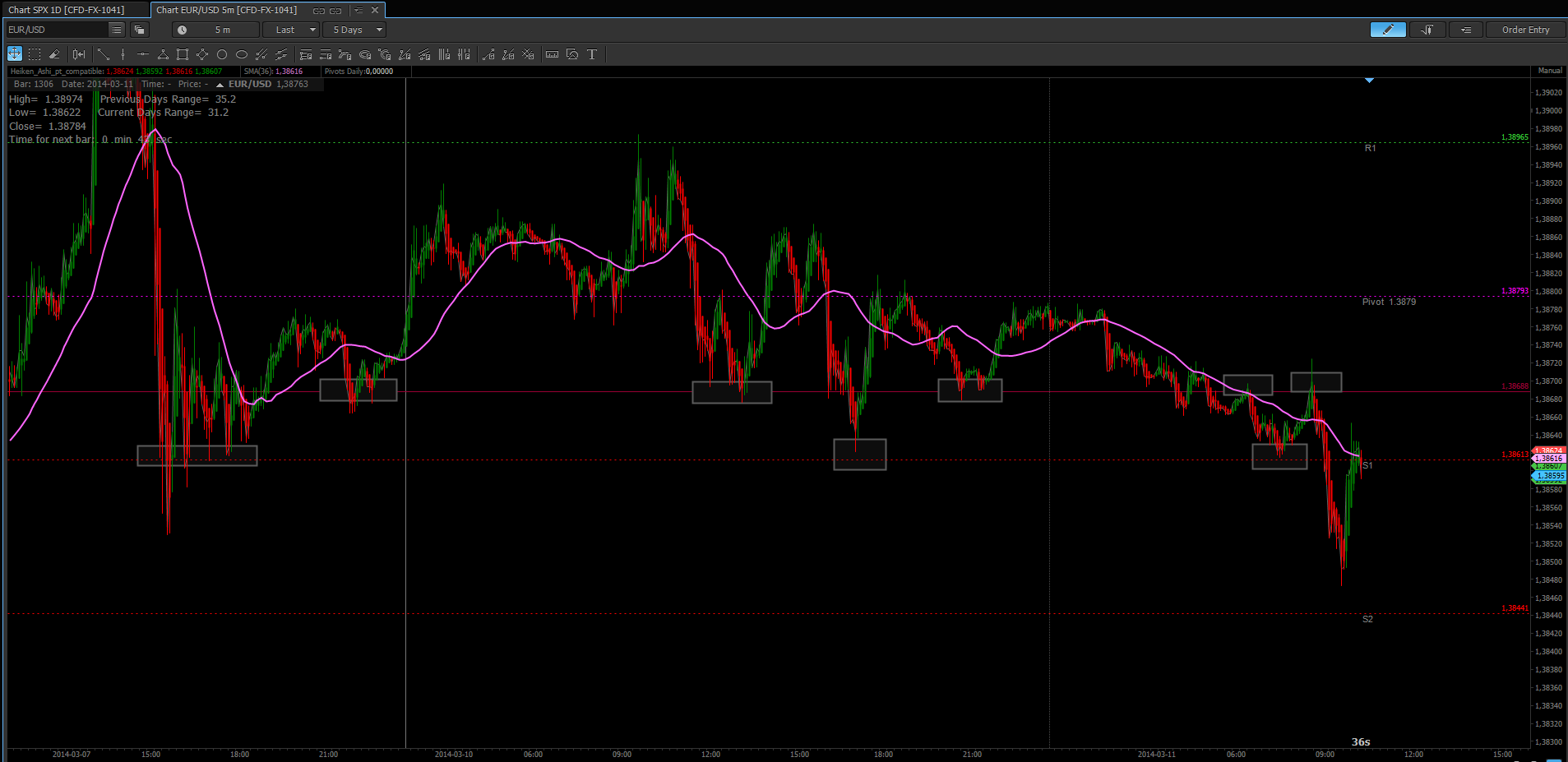 We have a quite nice setup here after price breached S1 level and test it from below with Moving Average declining as well. All we need now is some significant candle signal that will tell us, that level is going to turn the price lower - like red Heiken Ashi candle. And there it is: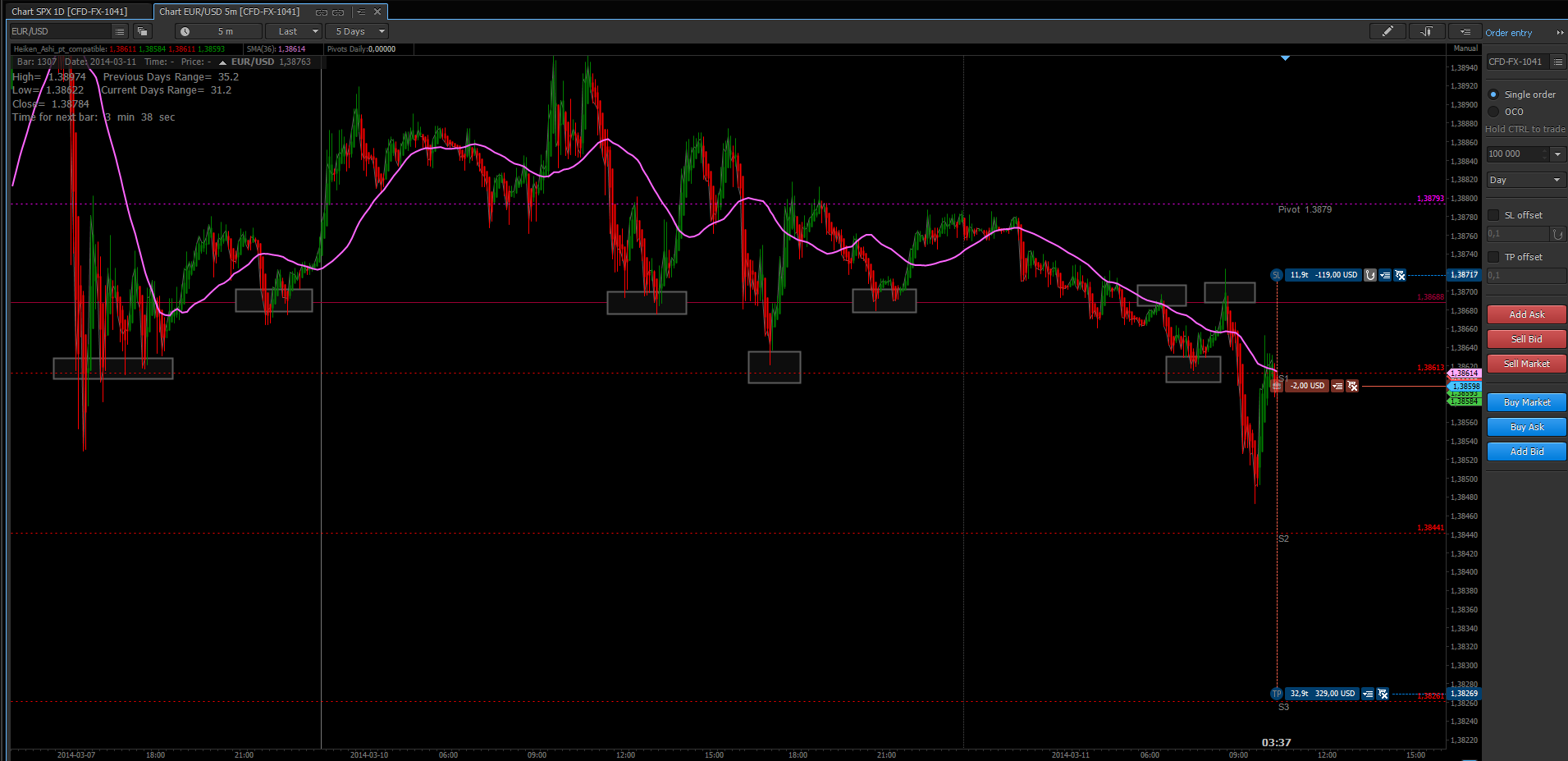 Price reaction wasn't exactly the one we've been expecting but eventually it turned out to be profitable.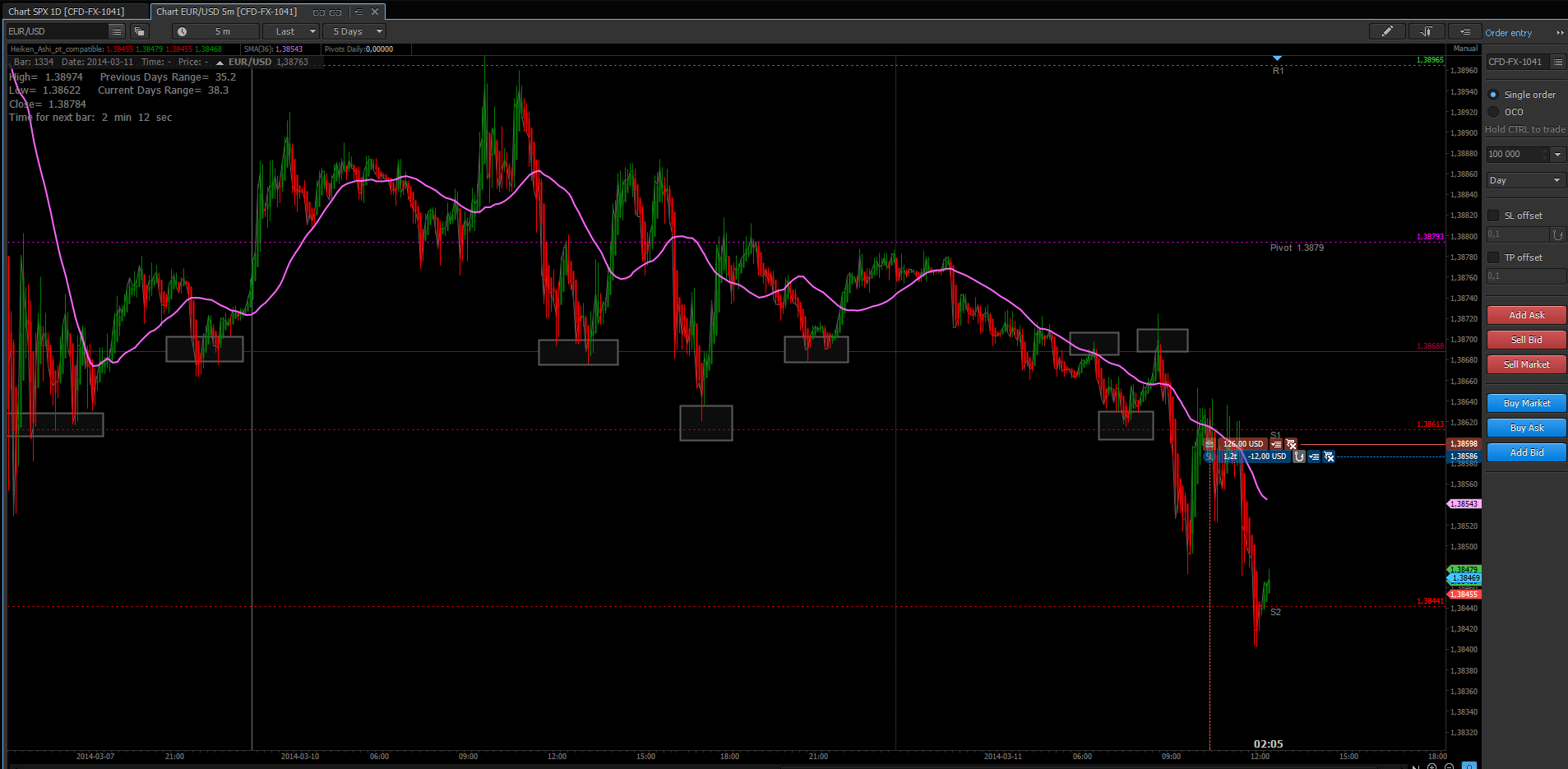 It has to be noticed, that M5 Heiken Ashi chart isn't as perfect as higher timeframes. Unfortunately, noise is to big on lower TFs and HA candle streaks are very irregular. Probably it would be better to use this indicator on 1-hour and above charts.
---
Have not tried PTMC yet? There is no better way to boost knowledge than to use it! Start trading with PTMC now!
No comments yet. Be the first.