When trading on the exchange market, it is very important to use not only an asset price, but also to take into account a trading activity of participants. You need the volume analysis tools to see the reason of price movement and understand a current market participants' mood.

The volume profile of PTMC platform allows to see not only a total amount of realized trades, but what is much more important, distribution of these trades on each price level at a specified time period.

Agile settings of this functionality allow placing a volume profile on different chart's parts easily:
On one chart's axis
On both chart axes at one time
On each separate bar
On any random chart's area.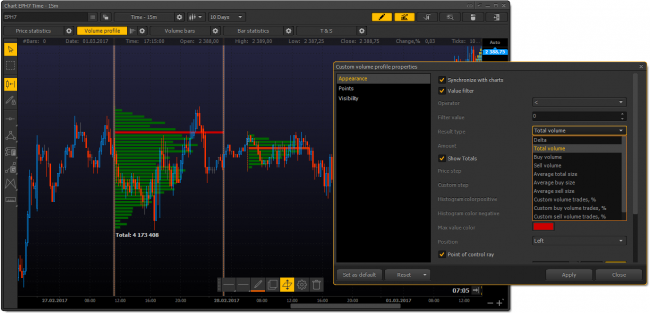 Herewith, you can adjust not only total amounts, but also buy, sell, delta volumes, quantity of realized trades… and a lot more! If you use this functionality, you will be able to define with a high degree of probability who currently takes control of the market: buyers or sellers.
Supported by