Creating a spread/basket chart
I am having trouble creating a spread/basket chart. I pulled one of the other day. But the i have forgotten exactly how i did it. From memory, i just for example entered 1EUR/USD+1GBP/USD on the chart symbol box.. Now i am just confused, i try via the portfolio option, but there is no way i can find to select chart to display after adding the symbols.
Please help!
Replies

PTMC team |

01.03.2016
Hello,
To create spread chart you need to open the Portfolio panel (Tools -> Portfolio). That click "Add new portfolio" and add necessery instruments with corresponding coefficients.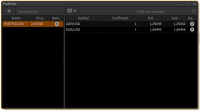 After you create your portfolio, you can open spread chart through Watchlish panel
Regards,
PTMC team
aussiedude4life |

01.03.2016