Protrader demo
Hello! i have a probleme
i created new protrader accaunt but afte recived login and password, i start ptmc terminal writing login&password, choose connecting to: protrade demo, vendor: FXCM
but i can't connecting, becouse login/password combination is not valid
Replies

PTMC Support |

07.12.2016
Hello, dspectr!
Thank's for your issue.
Protrader Demo and FXCM are two different vendors (connections).
1. Protrader Demo is working on the PFix Vendor. Host name: pt3.protrader.net:80,pt3.2.protrader.net:80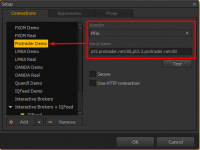 2. FXCM is working on the FXCM Vendor.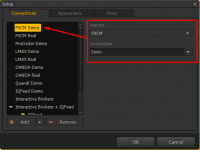 i created new protrader accaunt
If you created protrader account, you should to use Protrader Demo on the PFix vendor.