Start trading with PTMC
ello PTMC traders!
In this topic we'll tell you how you can start trading with PTMC, having just few simple steps.
Already tired of reading? Here is the same instruction in video format for you

STEP 1. REGISTER IN COMMUNITY
The first and basic element of the platform's functionality is the PTMC account. You can register an account by clicking LOGIN on the main page.
Then, click "Register" and enter your email. As well you may register via you social profiles - Facebook or Linkedin.

Check your email and follow the link we've sent you.
Now you're successfully registered and logged in! You can find your credentials in the second email we've sent you. You can change username, password, email, name etc in the "My Profile" section. For that, follow the tabs "My Profile", then "Profile" and click "Edit".
Don't forget to save changes when you're done.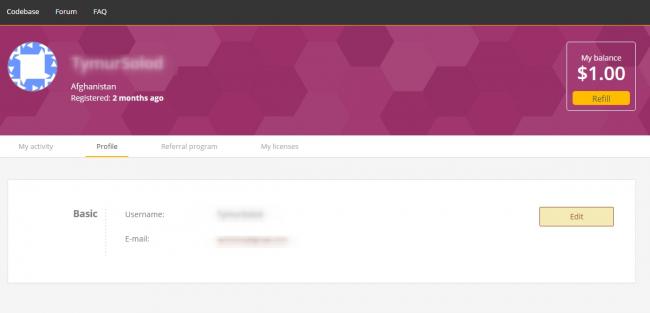 STEP 2. GET THE LICENSE

If you want to use PTMC - you need to have a license. If you are a newbie in our community - you have 30 days free Trial license. To activate it, just press "Multi-Asset Trial for 30 days" button on the Pricing page.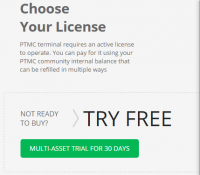 After your Trial license will expire date, you can buy Multi-Asset or Forex license. Just click "Buy license".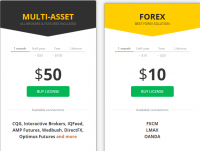 STEP 3. PTMC TERMINAL INSTALLATION

Now it's time for you to get acquainted with the PTMC platform itself! We offer a Desktop application for using it on your PC and Web Application for any web browsers. The desktop app is divided into two types - Beta (it includes the latest features that in test mode) and Stable.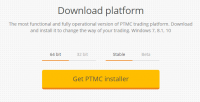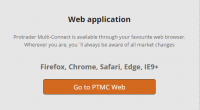 After downloading, please install the PTMC platform.
Before you install PTMC make sure that your computer meets our minimum system requirements:

Windows: 7/8.1/10
2 GHz processor
2 GB dedicated RAM
140 MB available disk space
STEP 4. LOGIN WITH YOUR BROKER ACCOUNT
Create a Demo or Live account of one of supported brokers or data feed and enter the platform with the credentials from our broker. For the following brokers you need to use CQG connection with their credentials (don't forget to check connection type - demo or real - in the connection settings):
- Direct FX
You can do it in two ways:
directly through Login screen (Select the broker you want to connect to and click Create demo account)
via our website on the Brokers page
directly the broker's website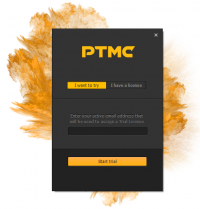 After receiving the login and password, enter the data into the corresponding fields.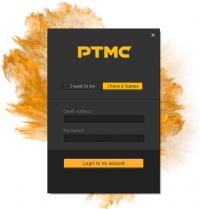 STEP 5. THE LICENSE ACTIVATION

After launching the platform, press the "C" sign in the lower bottom corner of the screen.
Then enter your PTMC website credentials.


If you have activated the license before, you will see the Active status of your license and the amount of time left until the expiration. If you have not activated the license before, you can do it here by pressing "Get license" button.

That's all!
Now you are ready to trade on PTMC platform! If you still have any questions - feel free to ask on our forum or via Live Chat.

Replies