The line that measures pips when you right click and hold do
Normally when i right click and hold to measure the distance between candles, a line appears telling me the ticks, date and other stuff. But now when i right click, all i get is the option window that contains settings and things.
How do i get it so that the line appears again when i right click and hold?
Thanks
Replies

PTMC Support |

15.07.2016
Hello, reachme1234!
In this functional, we did not change anything.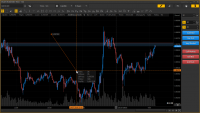 Maybe, you have some problems with the mouse.
Regards, PTMC Support.
reachme1234 |

15.07.2016