Balance Topup/Fill
I have £9 balance and need to buy a licence as the service is now chargeable. I'll be going with a month for now to see if I'll stick with ptmc.
That is, if I can work out how to topup my balance.
Could someone please let me know how I can do this as all I get when I try to buy a license is a no entry icon in place of my mouse cursor...
Replies

PTMC Support |

19.01.2017
Hello, Simon Osborn!
Thank's for your feedback.
Soon we will announce ways and means of payment of paid licenses, however at the moment you can use free licenses:

1) Free trial license for 15 days;


2) Multi-asset Christmas license for 15 days;
3) Forex Christmas license for 15 days;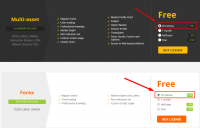 You can read about "How to activate PTMC License" here.