Everything is too small and all icons are over lapping each
I am using windows 10 on dell xps 13 (windows resolution is 3200 x 1800)

Everything is too small and all icons are over lapping each other.
Is there any solution to this?

Replies

PTMC Support |

26.01.2016

PTMC Support |

08.02.2016
We checked this case with using the same settings of windows resolution. Size of the icons in our UI is a really small when you use original settings.
But the icons are small almost in all applications.
To solve this problem we offer you to increase size of elements in Windows settings by using the functionality of zoom in : Control Panel / Appearance and Personalization / Display - > Change size.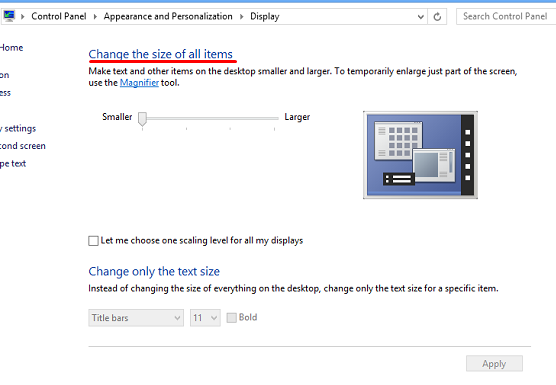 In case of using this functionality, the elements will be displayed correctly.
We hope, that it will help you.

Regards, QA Engineer.