Tick Data
Hi,
I pretty much tried everything underneath the database and I was unable to get my strategy to work with tick data. Basically, the best I was able to do, was to get Protrader to work on a random day out of 15 days or etc. The Algostudio manual that I've found online only talked about Protrader 2. I've posted about this a few months ago and just been programming on other language until the problem was fixed. If anyone was able to get this to work, please let me know how. Thanks again in advance.
Replies

PTMC Support |

13.07.2016
Hello, chrisbiz1e!
Thank you for your feedback.
We will try to help you.
Consider the full cycle of trading strategy by ticks.
1) You should to create database (For example, we have chosen "Vendor:LMAX").


2) You should to open strategy (For example, we have chosen "MACD Sample.mp4").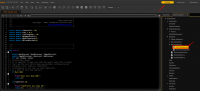 3) Go to the tab "Backtesting".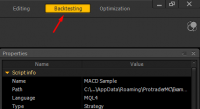 4) To trade the ticks you need to change "Time frame".

After that you can to Run Strategy.

We made a GIF animation to trade by ticks.
If you have any
questions or
problems, please contact us
.
Regards, PTMC Support.

Williams Chris |

15.07.2016

Williams Chris |

17.07.2016