[Development] Chart Trader
Hi everyone,
I'm excited. PFSoft has released an article on how to utilize the power of C#. As a way of saying thank-you, I'm developing a chart trader.
The image: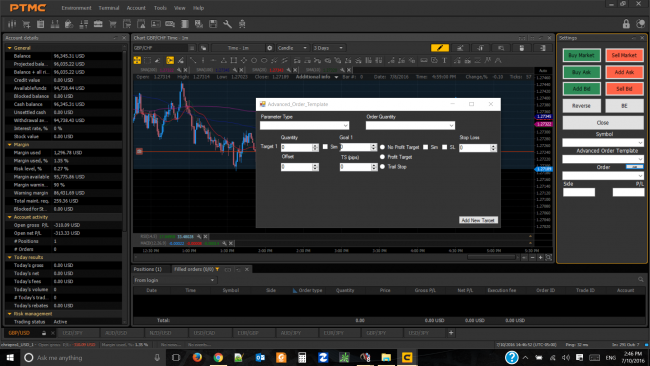 Now, I'm going to kill three feature requests at once. This chart trader is going to have the reverse button, breakeven, the ability to automatically open a position size by percentage, that one member requested, and an advanced order template, that I miss from Ninja. I like how PFSoft was able to allow me to integrate it into the platform without looking so third-partyish. Yes, I know that it still looks third partyish...lol. I'm going to go to illustrator and create buttons to make the panel look like it is a panel right out the box. So it is my fault as of right now.
The advanced order template is going to allow you to trail stop an order or take profit once it hit your goal. I might even allow the user to set a timer for a certain condition to happen, once the time has expired. Please feel free to make recommendations and I will be glad to consider. Once I'm done with this project, I will go about creating a bunch of features that I requested. Right now, I don't see how I can create a simulator until PFSoft allows the tool menu to show up in AlgoStudio. Please unleash that power whenever you get the chance.
You will be able to right-click on the chart trader to set a setting to breakeven plus a certain amount. The default will be 2 pips. If you're trading with FXCM, you obviously have to consider the commission. I will create multiple versions improving from the last, giving you pretty much an unlimited amount of combinations.
Once this is done, I will not be responsible for any negative thing that may happen to your account. It is your responsibility to look at the code to make sure everything checks out since it is open source. I will ensure that the chart trader is bug free before release, but I do plan on releasing the ability for one to use simulated SL and TP. This may be dangerous because Protrader must be running to place the SL's and TP's if you have it in simulator mode. I don't believe that it is possible to have the software to automatically submit the SL's and TP's to the server once connection is lost for obvious reasons. So please, use that feature with care.
Also, the chart trader will trade the latest order (Reverse the latest order, but obviously, it has to close the first order, if you click on the close button because of FIFO, if your broker enforces that stupid rule), but you do have the option to pick from previous orders to control via a dropdown menu. I will also see if it is possible to create a dropdown menu for you to select the account you want to trade on. This can be a good way to switch effortless from real account to demo account, but do use responsibility.
Replies