Simultaneous cursor display on multiple charts
First, this in in regard to Protrader 3 Desktop, not Multi-Connect. i don't see a forum for Protrader 3 Desktop.
I have several charts open. All are the same currency pair. Each is a different time frame. When I move the cursor around on one chart, I want to see the cursor also displayed on all the open charts. Is this possible to do now? If so, how? If not, please implement it. This is a feature on every major charting platform that I have used. I wonder why I don't find it on Protrader 3 Desktop.
Replies

PTMC Support |

28.04.2016
Hello!
Yes, it's possible to do. You can synchronize your cursor for the Charts.
The synchronization option located : General Settings - > Chart : Synchronize cursor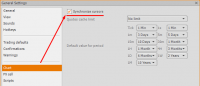 After the activating this option, your cursor will be displaying like this :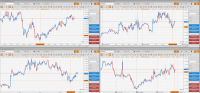 In this example we have 4 charts with different timeframes and synchronized cursor.
I hope these will be helpful.
Regards, QA Engineer.