Cluster chart filters
Hi PTMC team.
Is there some kind (indicator/signal) of modification I can use on the delta volume chart that can fire out some sort of signal when certain volume is met and/or the level of bid/offer is above certain % of the opposing side diagonally (similar to marketdelta)? Any help is appreciated.

Replies
PTMC Support |

06.03.2017
Hello, Kovalyov Enron!
Thank's for your feedback.
You can set value filter for Cluster(Delta/Volume,%) Сhart in the settings.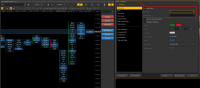 Also, our indicators can be useful for you. For example, we have Level's alert indicator. You can use the source code from indicator for your purposes.

Can you tell us more about what you mean? It would be great examples with screenshots.