Feature
Change styling of price indicator lines
I would be very helpful to adjust the style of the price indicator line for last, bid, and ask as well as their labels. Currently you may only change the color.
The changes i would like to make:
- Increase Last, Big, and Ask price label font size.
- Make Last, Bid, and Ask lines dotted instead of solid.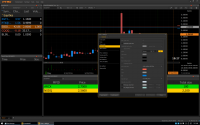 andrew
08.07.2016
No comments yet. Be the first.