Interface
Customize DEFAULT "Select Symbol" search settings
When searching for a particular symbol such as the US equity "GBR", many other results are returned such as Options, Futures, and symbols from uncommon markets.
Since i only trade US equities on the main exchanges, each time i add a symbol i must filter through the dozens of results manually to find the correct one.
It would be great if the filter settings for Exchanges and Types could be saved or set as default for all searches.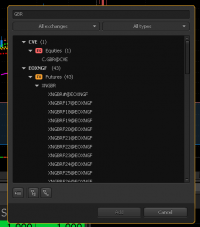 andrew
17.08.2016
No comments yet. Be the first.