Burhay Vlad
26.12.2016
​ATR Channels
ATR Channels Indicator is the unique price momentum tool which grants the ability to differ a trend slope with the given overbought and oversold zones based on the calculation of average true range indicator. This is widely spread indicator among traders community. Also, it was first built by Luis Guilherme Damiani. However, this version is advanced with an additional smoothing algorithm such as JJMA, JurX, ParMA, T3, VIDYA.
Based on Nikolay Kositsin's interpretation a Smoothing parameter varies in the meaning depending on algorithm:
JMA has Phase gap -100/+100
T3 Phase is multiplied by 100 for better visualization
Phase for VIDYA is CMO period
Phase for AMA is a slow EMA period
Take a look and don't hesitate to put it in your trader's tool belt before another trade entry and see how it may bring a fortune!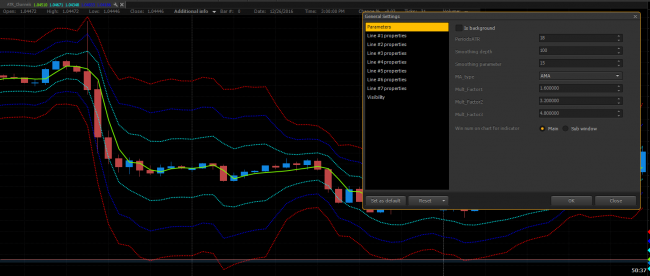 26.12.2016
72
No comments yet. Be the first.