Burhay Vlad
06.01.2017
Balance of Power Indicator
A rivalry between bears and bulls in the market was, is and will remain as major factor of price formation. Following this idea it is good to have a tool which measures a power of those two. BOF is very colorful and flexible indicator built for this purpose. And for better smoothing and adaptiveness BOF is boosted by extra smoothing algorithm such as JJMA, JurX,ParMA, T3, VIDYA.
Based on Nikolay Kositsin's mql5 interpretation, input smoothing parameter varies in the meaning depending on algorithm:
JMA has smoothing parameter gap -100/+100
T3 smoothing parameter is multiplied by 100 for better visualization
Smoothing parameter for VIDYA is CMO period
Smoothing parameter for AMA is a slow EMA period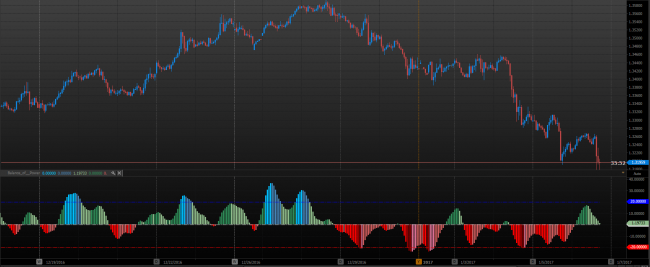 06.01.2017
103
No comments yet. Be the first.