MONTHLY CHART NOT SYNCED WITH OTHER CHARTS
Replies

PTMC Support |

12.09.2016
Hello, mail regit!
It looks like you are using time zone that differs from server (instrument session) time zone.
That leads to the visual bars shift on chart.
Answering your questions :
1. "MONTHLY CHART NOT SYNCED WITH OTHER CHARTS"
2. "the 1M cursor is sitting on the left part of the AUGUST bar and no September bar is seen on the chart. What happened to September monthly bar?"
Coursors are synchronized, you can see it in case of coursor moving. Also, in case of custom time zone you should consider that bars can be shifted.
Please, change the time zone according to the instruments session, and try to reveal the problem again :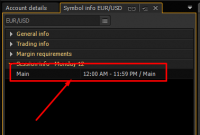 For example, CAD/JPY Chart synchronized for 1M - 1D :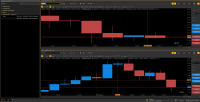 mail regit |

13.10.2016

PTMC Support |

13.10.2016