Interactive connection is taking months now...
is there any date to when it will finish?
:)
Replies

Bogdan Alexey |

02.07.2016
Hi sicketor!
We have finished integration with IQFeed and Interactive Brokers. IQFeed will be release next week, Interactive needs final testing and some improvements. I think it takes about 3-4 week (maybe less). After that we start working on multyconnections - possibility to trade on one broker and get quote and history data from another (or few). Also 2-3 weeks.
PS: these integrations need more time than usual forex, because of some new tasks we have to decide: non fixed list of instruments, new order types (for IB we will support almost all their order types), mapping for instruments between trade, quote and history connections.
Tom Rochman |

03.07.2016

PTMC Support |

22.08.2016
Hello, sicketor!
We have released an update 1.0.44.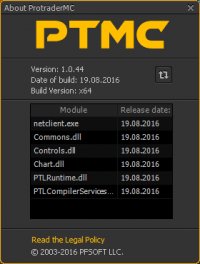 Now, you can use connection on Interactive Brokers.