PTMC team
19.01 2017
PTMC is now connected to 75+ exchanges via CQG
Hi friends!
Almost half a year has passed since our last PTMC connection and finally we are happy to announce one of the most anticipated events in the development of our project. Meet a new trading connection - CQG, a global provider of high-performance trading technology and reliable market data.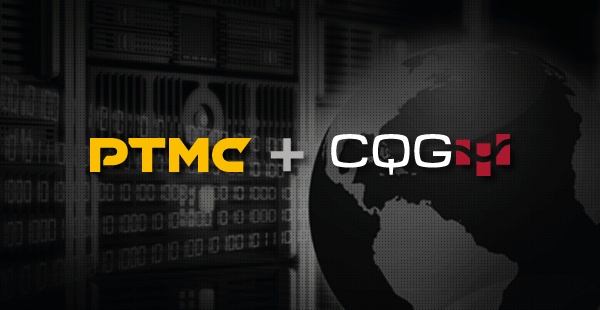 From now on all the users of PTMC platform can trade with any FCM broker that supports CQG technology. But that's not all! CQG usage opens access to more than 75 world exchanges, allowing you to trade futures, options, stocks, bonds, commodity spreads and much more. A complete list of trading tools is available for download here.
Besides, traders get the opportunity to work with the whole platform functionality, including cluster charts, three-dimensional analytical tools, Time & Sales, DOM and option master using real-time data. And in addition to the standard orders, PTMC has been added with algorithmic order types that reduces risks, speed performance time and ensures confidentiality for your transactions.
So, how to start trading via CQG?
By following this link you can register a demo account for 7 days and try all the functionality of the platform at work. Unfortunately demo accounts are limited not only by the time of use, but also by a number of the available tools and history depth. If you have a live trading account with one of FCM supporting CQG technology, you can instantly trade via PTMC.
Today you can use this connection just by updating PTMC Beta desktop application (or download the latest Beta version from our website).
---
Have not tried PTMC yet? There is no better way to boost knowledge than to use it! Start trading with PTMC now!