PTMC team
19.08 2016
PTMC trading platform has new connection - Interactive Brokers
Hey there, Protraders!
Finally, we are pleased to present an important and long-awaited update to our PTMC trading terminal. Meet the new trade connection - Interactive Brokers.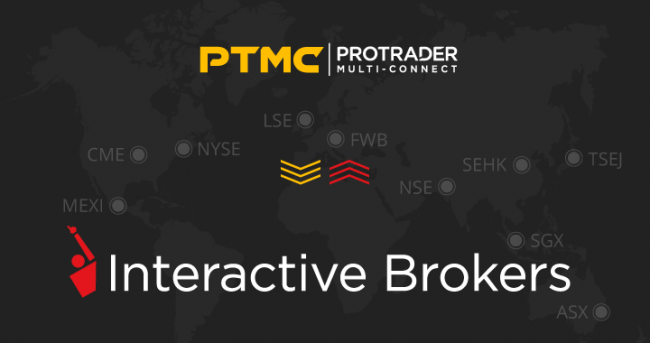 As you know, from the beginning of this year we have made connection to three forex brokers - FXCM, LMAX, OANDA, as well as to the data feeds, such as Quandl, IQFeed. Now we are coming to the whole new level with connecting to one of the most reliable and worldwide popular brokers - Interactive Brokers (IB). Considering that the IB is one of the largest FCM, which gives access to a large number of exchanges, this is a huge step towards the possibility to trade not only OTC products, but also stocks, options, futures, ETF, bonds etc. via PTMC trading platform.

Our previous IQFeed connection allows PTMC traders to receive reliable real-time market data. But we went further, and now we can combine several vendors to trade with Interactive Brokers through the multi-connection mechanism. Today you can use this connection just by updating your desktop application (or download the latest version from our website).
The detailed manual helping to set up your trading environment for Interactive Brokers usage is available here: How to connect PTMC trading platform to Interactive Brokers.
---
Have not tried PTMC yet? There is no better way to boost knowledge than to use it! Start trading with PTMC now!