Burhay Vlad
21.12.2016
Total Power Indicator
Just like in the song "I've got the power", the Total Power indicator retrieves decent market signals for better trade entries and exits. Both Bear and Bull Power algorithm are involved in the calculation, therefore it supplies constant line against average bull's and bear's power without having a lack of long lasting prospects. Total Power was built by Daniel Fernandez in 2011 and now it is available for PTMC community.

Few tips to trade with Total Power:
A trouble-free and less volatile way is to wait until Bull/Bear line would reach 100 marks and after fire sell/buy, respectively.
Bear and Bull lines crossover is another trade signal. Once Bear line is above Bull it is time to consider sell entry and revise if Bull appears above.
Total Power line could serve as exit point once Bear or Bull line is crossed from above.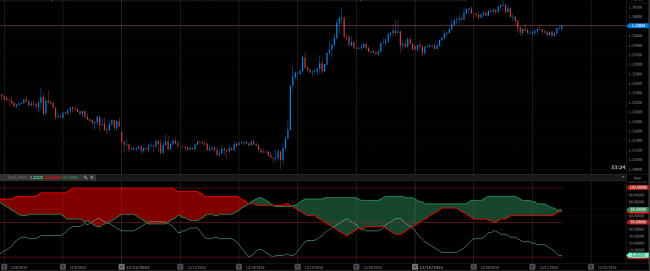 Worth adding, that default setups are not best, which trader could work out, therefore trader should study instrument before using Total Power tool. It is common case to use custom levels to confirm entries/exits, for example instead of 100 mark use 66. Just give a try and see how it may enhance your trading result in a short time.
21.12.2016
100
No comments yet. Be the first.