Prokaziuk Mikhail
27.12.2016
​Envelopes ATR indicator
Envelopes ATR is a technical indicator which displays upper and lower deviation bands of price from MA. It is calculating based on the average volatility of the instrument on the indicator ATR.
The middle band (default white) is deviation band of price from MA. Upper and lower bands (default blue and green) are deviation bands of ATR values from MA. Signal to sell appears when the price reaches the upper line of middle band and a buy signal appears at the lower line.
Based on Nikolay Kositsin'smql5 interpretation Smoothing parameter varies in the meaning depending on algorithm:
JMA has Phase gap -100/+100
T3 Phase is multiplied by 100 for better visualization
Phase for VIDYA is s CMO period
Phase for AMA is a slow EMA period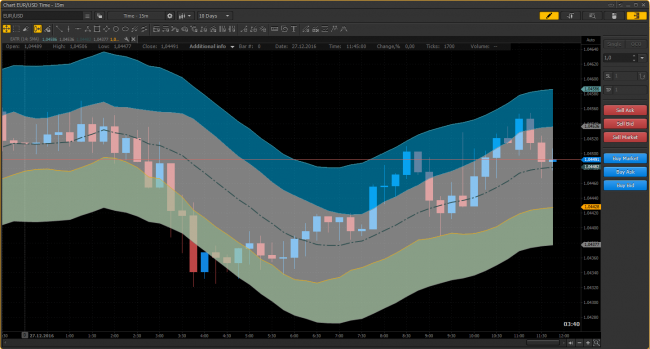 27.12.2016
70
No comments yet. Be the first.