Prokaziuk Mikhail
10.01.2017
Simple MACD indicator
The Simple Moving Average Convergence/Divergence (Simple MACD) is a lite version of standard technical indicator MACD from PTMC terminal, with the only difference: its data displaying method is widely spread online (MACD as a histogram with its Signal line). Let's recall what is MACD indicator and how it meant to be used.
The MACD is the technical indicator based on the difference between default 26- and 12-period exponential moving averages (EMA). A signal line is available in order to distinguish momentum for buy or sell.
Usually, traders are using three signals:
Crossovers. The logic of OsMA indicator is based on this signal.
Overbought/Oversold Conditions. When the MACD is increasing, this means that the security price is overextending and will soon return to more realistic levels.
Divergence. An indication that an end to the current trend may be near occurs when the MACD diverges from the security.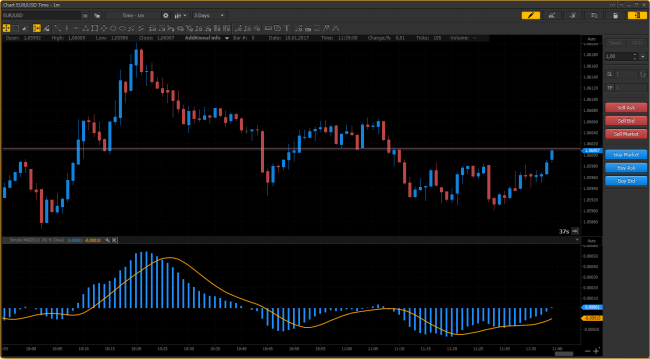 10.01.2017
91
No comments yet. Be the first.