Prokaziuk Mikhail
07.02.2017
The Know Sure Thing oscillator
The Know Sure Thing (KST) oscillator is based on a rate of change (ROC) indicator and was developed by Martin J. Pring in 1993. It's one of the interesting tools that provides an alternative consolidation between classical oscillator's behaviour and trend oriented technical indicator.
Signals. Open short position when the KST line (default blue) crosses below its moving average (default pink). Close short position when KST line crosses above its MA.
Bear in mind, the "Smoothing parameter" value varies in the meaning depending on algorithm:
JMA has smoothing parameter gap -100/+100
T3 smoothing parameter is multiplied by 100 for better visualization
Smoothing parameter for VIDYA is CMO period
Smoothing parameter for AMA is a slow EMA period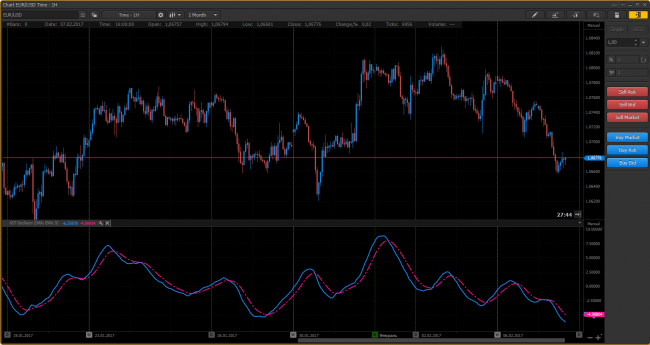 07.02.2017
124
No comments yet. Be the first.