Prokaziuk Mikhail
30.12.2016
Laguerre Filter Cloud indicator
The idea for building Laguerre Filter Cloud indicator was carried out from the "Cybernetic Analysis for Stocks and Futures: Cutting-Edge DSP Technology to Improve Your Trading" book by John Ehlers. It uses two moving average lines for filtering medium-term and fast trends.
For better efficiency it worth to use along with Colored Laquerre RSIfor better efficiency. The using strategy is very simple. Upon receipt, Laguerre RSI signal checks the location of the price relative to the indicator Laguerre Filter Cloud. When Laguerre RSI indicator gives a buy signal, enter the market only if the price is above Laguerre Filter line. The price should be lower than the Laguerre Filter for signals to sell.
Bear in mind that once Laguerre RSI indicator is used together with Laguerre Filter Cloud, their Gamma coefficients (input parameters) have to be equal.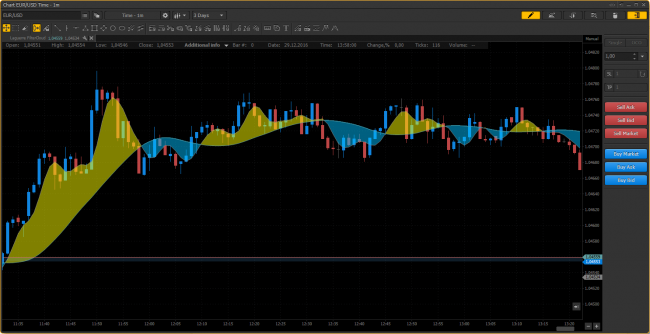 30.12.2016
95
No comments yet. Be the first.